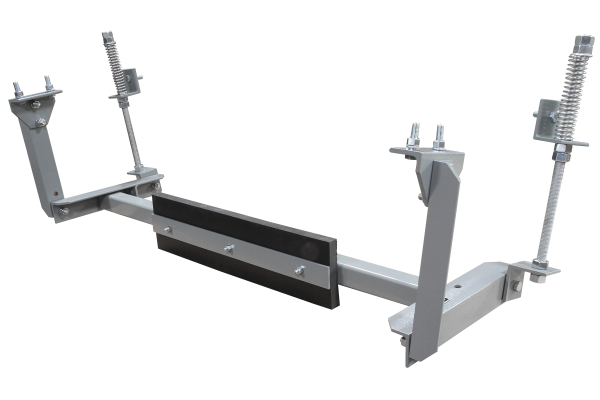 An inexpensive, easy-to-install, effective, and virtually maintenance-free conveyor belt cleaner.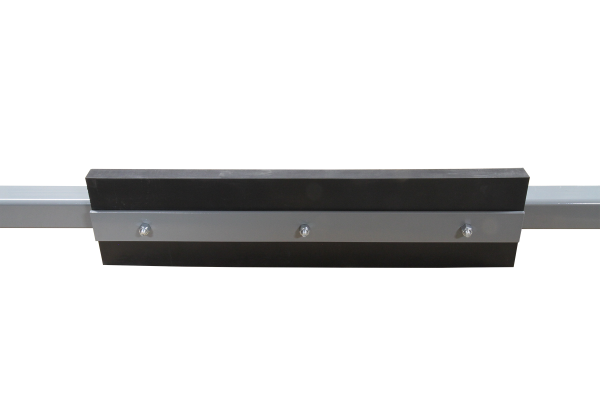 Eliminates wear by removing abrasive materials.
Saves clean-up expenses, cuts maintenance costs.
Available from stock for belts 12" through 72".
Can be left in contact with belt, even when belt is reversed.
Built-in safety feature: rubber blade can only be returned to extent springs are compressed. Features mechanically-adjustable safety stop.
Economical – low initial cost, easy to install, and no moving parts.
Highest quality 1"x6" rubber wiper material furnished as standard. Blade is reversible for double wear.
Pricing
| Conveyor Belt Width (In.) | Shipping Weight (Lbs.) | Price |
| --- | --- | --- |
| 12 | 40 | CALL FOR PRICING |
| 16 | 42 | CALL FOR PRICING |
| 18 | 43 | CALL FOR PRICING |
| 20 | 44 | CALL FOR PRICING |
| 24 | 47 | CALL FOR PRICING |
| 30 | 50 | CALL FOR PRICING |
| 36 | 54 | CALL FOR PRICING |
| 42 | 57 | CALL FOR PRICING |
| 48 | 61 | CALL FOR PRICING |
| 54 | 64 | CALL FOR PRICING |
| 60 | 68 | CALL FOR PRICING |
| 72 | 75 | CALL FOR PRICING |
REPLACEMENT WIPER BLADES
| Conveyor Belt Width (In.) | Shipping Weight (Lbs.) | Price |
| --- | --- | --- |
| 12 | 3.2 | CALL FOR PRICING |
| 16 | 4.3 | CALL FOR PRICING |
| 18 | 4.8 | CALL FOR PRICING |
| 20 | 5.3 | CALL FOR PRICING |
| 24 | 6.4 | CALL FOR PRICING |
| 30 | 8 | CALL FOR PRICING |
| 36 | 9.6 | CALL FOR PRICING |
| 42 | 11.2 | CALL FOR PRICING |
| 48 | 12.8 | CALL FOR PRICING |
| 54 | 14.4 | CALL FOR PRICING |
| 60 | 16 | CALL FOR PRICING |
| 72 | 19.2 | CALL FOR PRICING |